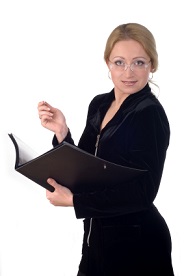 If you are between jobs or are just looking for additional work to fill a gap, temporary employment agencies are a great place to check out. These agencies provide several great benefits to job seekers, and their services are offered at no cost to you. Temp agencies pay their bills by charging employers a small fee, so they can offer their services to job seekers free of charge. There are many benefits of working for temp agencies.
Benefits of Temporary Employment Agencies
* Temporary Jobs: Temporary jobs offer several benefits to workers. You get a feel for a particular type of job or a business, and can determine if it's something you want to do on a long-term basis. You aren't locked into a job that you can't stand. If you like a change of scenery once in a while, temporary jobs also offer this. Many temporary jobs can last from one day to a week, while others can last several weeks to several months, depending upon the needs of the employer.
* Permanent Jobs: Many employers use temporary employment agencies as a way to screen employees before hiring them. These jobs are called temp-to-perm jobs, meaning that the employer keeps you on the payroll as a temporary employee for a certain amount of time. If they enjoy your work, they can hire you permanently after you've been there a while. Most temp agencies require that you work as a temp employee for a set number of weeks before an employer can hire you on a permanent basis.
* Insurance Benefits: Many temporary employment agencies offer insurance benefits for employees and even family members, as long as the temporary employee works a specified number of hours within a specified number of months and maintains employment with the agency past that time. This insurance usually carries a low cost and encompasses health, dental and vision benefits. Each employment agency is different, so if insurance benefits are important to you, check this out before committing to one agency.
* Additional Services for Job Seekers:  Temporary employment agencies offer other benefits for job seekers, such as resume help and assistance in finding jobs. Each agency offers different services, so check  out temporary employment agencies thoroughly before selecting one to work with you.
Additional Information
More information can be found by performing a search under the topics listed below:
Career development planning can be done on your own, but it's always wise to enlist the help of a professional career development planner or agency to help you solidity a plan and get you where you want to go in your career.   Very few employers require their employees to create these plans. Employer-directed plans that address career development in the workplace are not always effective; many employees are afraid to be honest on these plans, as they fear that it will hurt their careers with their current employers, or cost them their jobs. An employer is less likely to retain an employee that plans to leave within the next few years, and will want to hang on to the employees that plan to retire with the company. Employee turnover costs companies a lot of money, and they want to avoid this. Many employees see these career development plans as a way for employers to weed out "disloyal" employees (but this is not always the case).
First, it's helpful to know what information one of these plans should contain. Your plan should have a list of your current, short-term and long-term goals as they apply to your career and continuing education. Include training opportunities such as formal college and university courses, on-the-job training, and conferences and seminars where you need to learn appropriate skillsets and advance in your career. Think of where you want to be next year, in five years, in ten years and beyond. Many employees get stumped – they can't see past their current employer. You don't have to work at the same company forever, especially if there is no chance of advancement or further growth. You may not know where you will work in ten years, but you can plan for a higher-paying job, or a job with more responsibility elsewhere.
After you create your career development plan, keep it in a convenient place and revisit it yearly, or as changes occur in your education, training or job position. Keep it updated and feel free to tweak your goals as you make changes in your life. The career development plan should fit your needs, and not be just another piece of paper laying around your desk, or another file clogging up your hard drive. It should be a workable plan that can adapt and adjust to fit your needs; a road map of sorts.
Having a plan is the most important aspect of getting where you need to go.  If you need help with a career development plan, seek the services of a professional.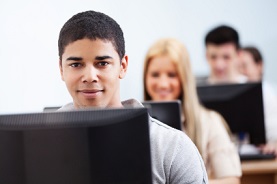 The advantages of online computer training courses allow employers to provide the necessary training with many benefits both to the company and the workers it employs.  The technological landscape is always changing and it is important that workers keep up with these changes. The best way to keep up with technological advances is obviously training, but hosting classes and providing books and other materials can be costly.  That's where online computer training courses come in.
Benefits of Business Training Online
Financial Savings: Requiring your employees to attend necessary training on a computer-based, online platform can save your company thousands of dollars. You don't have to provide costly books and software to employees. You don't have to hire a trainer to come and teach the classes in person, and you won't have as much employee down-time. Your employees can log on to the training website as their work load allows, complete the training at their own pace, and then return to their job duties. You'll also save money on record-keeping – the training website will allow you to print a list of employees who have completed the training, are coming due for the training, or are overdue for the training.
Selection of Courses:  A large selection of courses are available in a number of different areas of study.  Students can even take online college courses in computers or focus on other areas such as business classes.  Some institutions offer certificates and diploma classes.   For the computer professional,  computer certification courses and online computer training certification is also available.
Time Savings: Employees grumble about being required to take hours out of their day to attend formal classroom training. Allowing employees to attend self-paced online computer training saves them time. They can complete the course at their own pace and receive the most important information. They can also take notes via pen and pencil, or copy and paste information to a word processing document to refer to later.
Convenience: It can be difficult to round up all of your employees to attend a class at the same time, especially if your company has employees working different shifts. Providing online computer training courses to your employees allows them to take the training at the own convenience. It also saves you the headaches that come from scheduling the training. You don't have to locate an appropriate facility with the needed equipment, a trainer and the materials needed for the class. You also don't have to worry about scheduling classes to fit in with your workers' schedules.
If you are contemplating offering online computer training courses to the members of your workforce, you first must determine what training your employees need. You also need to know what type of budget you have to provide this training with. Once these variables are determined, you can then begin the search for a computer training provider that can offer the classes to your employees. You can then begin offering training and reap the benefits of virtual training!
If you are a job seeker and would like to learn or improve upon a skill, GoGetterCareers.com can help.  We can connect you with one of our affiliate partners where you can take online computer training courses via online video or enroll in an online class with a live instructor.  Whatever option you choose… online computer training courses, and computer certification courses can be accessed from our home page under Services or you may contact us at 978-921-5600 or email us at CustomerSupport@GoGetterCareers.com.
Recent Posts
Archives
Subscribe to my feed