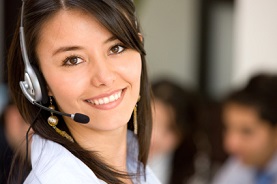 Call center jobs are an excellent job option for those who are interested in working with the public. A call center is typically considered a business that makes and/or accepts telephone calls from customers; however, there are a number of other employment options available through a call center service. Positions may include call center management, sales or telemarketing, online call center jobs, verification of businesses or customer information, technical support (which is an excellent option for someone with an IT background), or customer service, which may include answering customer questions or handling customer complaints.
The skills required for call center jobs vary depending on the type of position you hold. However, the basic qualifications include the ability to use a computer, operate a telephone and have an understanding of what your specific job duties entail. It is also beneficial to have previous experience with customer service and/or working in a fast paced environment. Depending on the type of call center work you are doing, you will be required to understand incoming and/or outgoing calls and possibly speaking with more than one customer or management personnel at the same time.
One of the benefits of working in a call center service is the option to work from home. Many call center jobs are outsourced to people who want to work in this industry, but prefer to work from their home and be employed in home-based call center jobs.  Although there isn't typically a requirement for previous experience working from home, you are required to have a pleasant phone voice, clear enunciation, proper pronunciations and a calm and patient manner. In addition, some companies may require call center management experience for work-from-home positions.
Working a call center job, whether it be from home or outside the home, means you'll be considered as a customer service representative. You will learn a range of skills, such as sales, customer support, technical experience, billing and how to handle customer complaints. There are hundreds of options as to the type of business you could work with and, in most situations, there is the opportunity to move up into a higher paying position. For example, if you work in a large call center, you may be able to move up to a trainer position or a floor supervisor.Call center jobs are legitimate work opportunities that allow you to learn new skills while working. There are a number of ways to find this type of job and the requirements are typically basic skills. The pay for working in  call center jobs varies greatly depending on the company you work for, what your position is with the company and if you choose to work from home or in a call center. More information can be found on call center jobs by referring to the additional resources section below.
Additional Resources
Inbound Call Center Jobs – About.com
Outbound Call Center Jobs – About.com
For many job seekers, gaps in employment history may pose challenges in the job application process.  While gaps in employment  may be viewed negatively by hiring managers, they are not insurmountable obstacles.  With a little ingenuity, most job seekers can address these gaps in a satisfactory manner and land a position they are pleased with.  If you are applying to open positions and have gaps in your employment history, here are some ways you can address those gaps.  The best technique for your specific situation will depend on the length of and the reason for the gap in employment.
Reason for a Gap in Employment that is a Few Months
Gaps in employment that are only a few months long may be addressed by slightly adjusting the dates on your resume.  Dates of employment should always be included on a resume (not including them will raise even more issues than a gap does), but the format they are included in is flexible.  If you have a gap or two of only a few months, format your employment dates in seasons, rather than months.
The Functional Resume
For more significant gaps in employment history, UC Berkeley tells its alumni to use a different resume format.  Rather than formatting your resume in a reverse-chronological order, UC Berkeley recommends using a functional resume.  This type of resume may be the best resume for employment gaps.  A functional resume includes (in this order):
Qualifications – a brief statement of experience and skills
Strengths – a bulleted list, with relevant experience mentioned below each strength
Professional Experience – employment history, with dates
Related Experience – relevant experience not gained at a job
This format acknowledges gaps in employment history, but it emphasizes the applicant's strengths more than experience.
Explaining Gaps in Employment History
Depending on the reason for a gap in employment, it may be advisable or unadvisable to disclose it.  Obviously, if you were incarcerated or became disabled, then you should not include this reason on your resume.  If necessary, it is better to explain this in person than on a paper.  Employers, however, are prohibited by law from asking about disabilities.
If the gaps in employment history come from caring for a family member or raising children, though, you might want to mention this.  This information should not be included on your resume, but it can be included in a short, well-crafted statement on your cover letter.
Gaps in employment history should not prevent you from applying for positions you would like.  They are a challenge, but a savvy job seeker will be able to address these gaps and land a good job.
Additional Resources:
What is an Employment Gap – Source:  About.com
How to Explain Gaps in Employment History – Source:  About.com
Employment History Resume Examples -Source:  About .com
Reason for Gap in Employment – Source:  About.com
Employment History Letter – (Example/template of letter explaining employment gap) Source:  Microsoft
Recent Posts
Archives
Subscribe to my feed