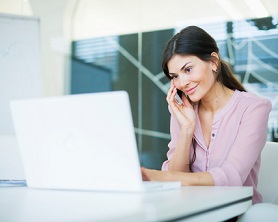 Some of the best online jobs allow you to earn a living from the comfort of your own home. All it takes is a reliable Internet connection, a computer or laptop, and certain skills.
Before you pull up a chair and start applying to just any job that claims to be home-based or online, it is important to know what types of positions are legit online jobs. The following are some examples of some of the best online jobs.
Freelance Writing
There are hundreds, if not thousands, of individuals who will pay others to write for them. The type of content that needs to be created ranges from product descriptions for ecommerce websites and blog posts to employee handbooks and marketing emails.
Most freelance writers are able to work from home as long as they are able to meet project deadlines. In fact, some freelancer writers are able to work while traveling across the country.
Some skills that are required to succeed as a freelance writer, which is one of the best online jobs, include:
An understanding of the English language
The ability to convey a specific message in a set word count
A basic understanding of how to use word processing programs like Microsoft Word
Marketing skills to obtain clients
Research skills
Communication skills
The ability to meet deadlines
Website Developer
Website developers are specifically responsible for the creation of websites for various clients. Clients can range from major companies and corporations to startup businesses and individuals.
A website developer will create an entire website from the ground up. This typically includes a home page, subpages for services and other information, a contact page, and graphics for the website. The developer will also make sure that the website is up and running smoothly.
Some of the skills required to obtain a position as a website developer, which is one of the best online jobs, include:
Knowledge of HTML and CSS
Basic writing skills
Communication skills
Management skills, namely the ability to prioritize projects for various clients
Marketing skills
Problem-solving skills
Creativity
Ability to meet deadlines
Customer Service Agent
Many major companies and corporations are starting to outsource their customer service departments to independent contractors/freelancers or individuals who telecommute. People who are looking to start working in one of the best online jobs may want to consider looking for a customer service agent position.
There are a number of different types of customer service positions that are available to individuals who wish to work from home or online. These positions can range from a chat-based customer service agent, who answers questions through an on-site chatroom or instant messaging program, to someone who takes calls for a billing or customer service department.
Some of the skills required to succeed at this type of online job include:
Ability to clearly convey a specific point or message
Patience
Problem-solving skills
Basic skills such as working on a computer and entering data into software, writing up comments, and answering phones
Communication skills
Professionalism
These best online jobs give individuals the opportunity to earn a living without having to deal with the stress and hassle of a daily commute. You may also find that work from home opportunities are often careers from home that pay well!  If you have some or all of the skills listed above, you may want to consider applying for one of these legit online jobs.
Legitimate online jobs, and work from home jobs that pay well can be found by performing a search on  job boards. Some of the best work from home jobs can be found by performing a search on such  keywords as  "work from home"  or "legitimate work at home jobs".   Keep in mind that legitimate online jobs should be real online jobs no scams no fees.   Additional information can be found on the best online jobs and work from home opportunities by reading the following articles.
What Are Call Center Jobs and Do They Require Experienced Employees?
Legitimate Work From Home Jobs