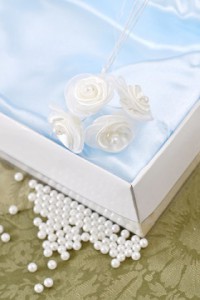 Want to learn how to become a wedding planner? Are you a creative person who has a passion for weddings and/or event planning? Does the idea of helping a couple put together a memorable wedding ceremony and reception excite you? If so, then a career as a wedding planner just might be your calling. Of course, not just anybody can become a wedding planner, there are some hoops you'll need to jump through, and some vital steps you'll need to take to make it happen.
Wedding Planner Schools
While extensive schooling isn't a formal requirement to be come a wedding planner, you'll want to at least have a high school diploma or equivalent (GED). From there, while colleges and universities typically don't offer official degrees in wedding planning, there are some relevant bachelor's degree programs that may be worth pursuing. A few examples of useful bachelor's degrees for a wedding planner include:
Marketing
Public Relations
Hospitality
Event Management
Of course, there are some schools that offer a certificate in wedding planning, so if a four-year degree isn't up your alley, this might be something worth looking into. The nice thing about wedding planner schools is that as certificate programs, they tend to be available online and at some college campuses.
Finding Wedding Planner Jobs
Once you have the recommended formal education, it's time to gain some relevant experience, before you start looking for wedding planning jobs. For hands-on experience, consider applying for jobs in the event-planning industry. For example, a job at a catering company, wedding venue, or event planning service can help you develop skills that will be applicable to your career in wedding planning. When it comes to learning how to become a wedding planner, experience is key. Having these items on your resume, along with your formal education, will make you more marketable.
When it comes time to apply for wedding planning jobs, understand that you have the flexibility to work either for a private company, or as an independent contractor (but with the latter, you'll need to build your own client base, which can be difficult for those just starting out).
What to Expect: Wedding Planner Salary
A common question people have regarding how to become a wedding planner is what to expect and what is considered a typical wedding planner salary. According to The Wedding Planner Book, most wedding planners make around $45,000 per year, or an average of around $3,200 per wedding. This can vary greatly from person to person; some planners can make more than $100,000 per year, once they become well established.
Now that you have a better idea of what to expect when it comes to how to become a wedding planner, it's time to decide if this is going to be the right long-term career option for you.
Resources:
Learn At Home How to Become a Wedding Planner – Penn Foster, Wedding Planner Certification
Becoming a Wedding Planner Where to Start
Wedding Planning Courses Online – Wedding Planning Institute
Source:
http://www.theweddingplannerbook.com/how-much-do-wedding-planners-make