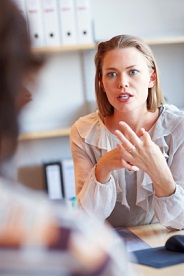 These days, strong communication skills are one of the best qualities you can have when applying for a job or promotion. Employers recognize the value of excellent communicators in the workplace and reward them well as a result. By understanding why communication matters so much in your career and what specific types of communication strengths are today's employers looking for, you can take the necessary steps to improve your own communication abilities.
Why Are

Communication Skills

Important in the Workplace?
There are countless reasons as to why effective communication skills are vital in the workplace. For starters, unless you're a freelancer who works entirely on your own (which is an extremely rare position to be in), you have to work with others as part of your job on a daily basis. Whether you're working directly with customers/clients, with other co-workers, or with bosses/superiors being able to communicate successfully is key to performing your job. You need communication abilities to talk to a supervisor about a potential problem in the workplace, just as strong communication can help you land that sale with a new client.
More than likely, you can think of a situation in your past where somebody you worked with wasn't a very strong communicator. That person's lack of communication probably led to problems in the workplace, such as missed deadlines, misunderstandings with clients/customers, and the like.
Jobs That Require

Communication Skills
A better question would probably be "what jobs don't require strong communication abilities?"  Some Examples of Communication Skills would be: if you imagine any job where you work with people (whether it be co-workers or clients) then you have an example of a job where communication is important. Even a job where you work primarily on your own and independently can require these skills. For example, say you work as a medical transcriber, which means you take dictated recordings of doctors' findings and turn them into a written text. Most of your work day is spent working in front of your computer and typing. This is a very independent job. Still, there are times when you may need to contact the physician or doctor to clarify something, or situations where you need to answer immediately to a supervisor or manager. In these cases, communication is just as important to your job as it would be if you worked in a job where you do a lot of daily interaction with others.
You may be wondering, "but what if I run my own business?" The truth is that communication skills are still important here. No matter what industry you find yourself in, there's a good chance that you need to work with clients/prospective clients daily to ensure that you're delivering the best possible goods/services to them. In other words, no job or career comes without a need for effective communication skills. Still, some common examples of jobs where communication is extremely important include:
sales positions
supervision/leadership positions
telecommunications jobs
social media/marketing jobs
What

Communication Skills

Do Employers Want?
So, you're looking to get into a particular job or industry, and to improve your chances, you want to find out what types of communication skills are most important to have. Of course, this will vary from one position to the next, but in general there is a list of communication skills that most employers will want you to have:
professional speaking abilities/experience
active listening
strong writing skills
confidence and articulation
Depending on the type of job you're applying for, presentation skills may be very highly favored, so be sure to list in your resume if you have any specific experience speaking at a particular conference or event. Furthermore, keep in mind that communication doesn't always mean speaking face-to-face; many employers these days look for prospective applicants who have strong writing skills, as more and more jobs require written communication in the form of e-mails, memos, and the like. In fact, for those who aren't very strong public speakers, having strong written communication abilities can be a great advantage.
How to Improve Upon Your

Communication Skills
If you feel like you don't hit all the marks on the above list of communication skills, don't fret. There are some steps you can take to improve your communication skills and thus boost your chances of landing your ideal job. For starters, if you struggle with confidence and public speaking, consider taking a speech class at your local community college. The same goes for writing; many community colleges offer professional writing courses and similar classes that will help you better compose e-mails, memos, and other common forms of written communication in the workplace as a means of improving your communication skills.  Some additional Communication Skills Exercises can be found here: Effective Communication Skills Training & Activities
 As you can see, having strong communication skills is a must in any career or job these days. Effective communication keeps a workplace running smoothly and keeps customers/clients happy. Now that you have a better idea about the importance of communication skills, what steps are you ready to take to improve yours?
Resources:
4 Basic Types of Communication
Fun Communication Skills Activities