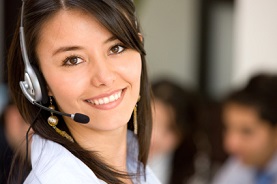 Call center jobs are an excellent job option for those who are interested in working with the public. A call center is typically considered a business that makes and/or accepts telephone calls from customers; however, there are a number of other employment options available through a call center service. Positions may include call center management, sales or telemarketing, online call center jobs, verification of businesses or customer information, technical support (which is an excellent option for someone with an IT background), or customer service, which may include answering customer questions or handling customer complaints.
The skills required for call center jobs vary depending on the type of position you hold. However, the basic qualifications include the ability to use a computer, operate a telephone and have an understanding of what your specific job duties entail. It is also beneficial to have previous experience with customer service and/or working in a fast paced environment. Depending on the type of call center work you are doing, you will be required to understand incoming and/or outgoing calls and possibly speaking with more than one customer or management personnel at the same time.
One of the benefits of working in a call center service is the option to work from home. Many call center jobs are outsourced to people who want to work in this industry, but prefer to work from their home and be employed in home-based call center jobs.  Although there isn't typically a requirement for previous experience working from home, you are required to have a pleasant phone voice, clear enunciation, proper pronunciations and a calm and patient manner. In addition, some companies may require call center management experience for work-from-home positions.
Working a call center job, whether it be from home or outside the home, means you'll be considered as a customer service representative. You will learn a range of skills, such as sales, customer support, technical experience, billing and how to handle customer complaints. There are hundreds of options as to the type of business you could work with and, in most situations, there is the opportunity to move up into a higher paying position. For example, if you work in a large call center, you may be able to move up to a trainer position or a floor supervisor.Call center jobs are legitimate work opportunities that allow you to learn new skills while working. There are a number of ways to find this type of job and the requirements are typically basic skills. The pay for working in  call center jobs varies greatly depending on the company you work for, what your position is with the company and if you choose to work from home or in a call center. More information can be found on call center jobs by referring to the additional resources section below.
Additional Resources
Inbound Call Center Jobs – About.com
Outbound Call Center Jobs – About.com
Learning how to become a virtual assistant can be a smart career move. The number of these types of jobs are on the rise. Many people are turning to this career field to replace a full-time income or supplement as a part-time source of funds. A virtual office assistant can work in a variety of fields, to include administrative, legal, medical, financial and virtual data entry jobs; the list is endless. These jobs offer you flexibility in scheduling.  As you learn how to become a virtual assistant  in this field you will find that the job will also provide you with the opportunity to do something different every day, while still working with others from the comfort of your own home. Getting started can be difficult, but it's not impossible if you have a plan.
How to Set Up Your Work Space
As you learn how to become a virtual assistant, you will find that  it requires an easy office setup. These types of  jobs typically require a dedicated workspace, separate from your living area. You should have a desk with plenty of room to work, adequate storage for files, and a computer with good Internet access. A phone and other office equipment are also necessary, depending upon the services you offer. Keeping your work area organized will help you be more productive and increase your virtual assistant salary. Your work area should also be quiet with very few distractions, so you can stay focused and provide great service.
Determine What Services You Will Offer
Some of the steps you should take when preparing for these types of positions is that you need to determine what services you plan to offer as a virtual office assistant. These can include research, report creation and database management, files management; the possibilities are endless. You can then create a fee schedule based on each particular task and how much time the task will take you to complete. This will help you give accurate quotes to clients before they retain your services. You won't feel underpaid and they will know up-front what they will be expected to pay for your work.
Market Your Virtual Assistant Business
After you set up shop and are aware of how to become a virtual assistant you will need to know what kind of virtual assistant jobs you will be taking on, it is time to market yourself to prospective clients. It can be helpful to enlist the services of a company that specializes in this, to help you reach more customers. The possibilities are endless; you can advertise in local media, online or even sign up for websites that will help connect you with clients that need your services.
It's important to have an updated resume to not only help you increase your chances of making a successful career for yourself as a virtual office assistant, but also to increase your virtual assistant salary. GoGetterCareers.com offers career services that include self help tools that  can help you with every aspect of this process, from setting up a cover letter and resume, to pursuing online training for this field. We provide online employment resources to make your job search or transition as easy as possible.  Additional information on this topic can be found online by searching for the keyword phrase how to become a virtual assistant or virtual assistant jobs.
Virtual Assistant Job Openings can be found on the following Sites:
Additional Resources:
The number of consulting jobs available is growing every day, and entry level consulting jobs are more prevalent now than ever before.  If you have a lot of specialized education and experience in a particular discipline or career field, you may be considering a consulting career.  If you aren't convinced that a consulting career is for you, you should check out some of the benefits of consulting jobs. We've outlined a few benefits of consulting jobs to help you as you consider a job in consulting.
Be Your Own Boss
Almost everyone has dreamed of becoming their own boss. Consulting jobs allow you to set your own hours and work when you want to work. The work is done on your own terms, and you can choose the jobs that you'd like to do. You can work with clients that you enjoy working with. You don't have to deal with a boss that you don't enjoy working for, or worry about personality conflicts in the office. If things aren't working out with a client, you can kindly part ways and move on.
Better Income
A job in consulting can be more lucrative than most other jobs in your chosen discipline. Consultants are required to have more specialized knowledge and experience, and thus are paid better as a result. Since you are an independent agent, and may not have much competition from other consultants in your area, you can set your own rates, within reason. Don't undervalue yourself and virtually give your services away, but don't over-price your work and scare off your clients. Research what other consultants in your field are charging and use that as a baseline when determining your own fee scale.
Work From Home
The number of people who have found a way to do what they love from the comfort of their own homes has risen exponentially over the last 15 years. A consulting job will allow you to work from home the majority of the time, if you wish to do so. You can work with clients via the Internet, and attend meetings in person if necessary. You can rent space at a "virtual office" building if you need to host meetings or need business equipment that you may not have at home. This enables you to have a professional appearance for clients and keep costs down at the same time.
Passion for Your Work
Many workers don't enjoy their jobs, but don't move on to bigger and better things because they are scared of the unknown. A job in consulting will allow you to do something you are passionate about. You can wake up every day, excited to go to work because you are doing something that you enjoy. And in the process, you are helping others with your knowledge.
Summary

Deciding to pursue a consulting career is a major step toward identifying your career goals.  In some cases, consultants are already well versed in specialty careers from their education and being employed in their area of expertise.  Those with less education and experience may wish to obtain additional training in a number of different career paths and then gain job experience working for an employer before they embark on a career as a consultant.  Companies often seek the expertise of consultants when they have projects that require an area of specialty.  In some cases, there is not enough work to hire a full time employee.  This often provides  employment opportunities for those seeking a consulting career.
Consulting jobs offer a number of different benefits that include a flexible work schedule, higher compensation, working independently and working in consulting jobs from home.  You may also enjoy the benefits of working for  multiple companies and will also learn the company culture.  If you are looking for a permanent positions with a company, consulting jobs will help you get your foot in the door.  You may find that you have a fairly high success rate of changing your employment status from a consultant to a full time permanent employee.  Some popular and top consulting jobs include Security, Management and Health Care Consulting Jobs.  Some sought after skills of efficient consultants are excellent technical, analytical, and brainstorming skills.
How to Embark on a Consulting Career
If you are looking to get started as a consultant, or are looking for consulting jobs, you should seek the help of a professional to help you establish a game plan and market yourself to clients.   You may also want to seek the assistance of  well established  firms that specialize in consulting.   In come cases, these firms can provide consultants with employment and benefits.  More information on consulting opportunities can be found at Deloitte, the world's largest management consulting firm.  The  Consultant Journal on How to Become a Consultant can also provide information on consulting jobs.
« Newer Posts
Recent Posts
Archives
Subscribe to my feed