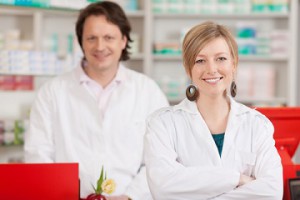 Interested in learning
how to become a pharmacy technician
and answer the question "
How long does it take to become a pharmacy technician
?" If so, and if you're looking for a rewarding and challenging career option that doesn't require several years of schooling, then you've come to the right place. A job as a pharmacy technician can be very fulfilling, and with the average starting
pharmacy technician salary
being more than $30,000, according to
US News & World Report
, you can live a comfortable lifestyle and have plenty of room for advancement in the process.
Enroll in an Educational Program
 First of all, you might be surprised to learn that you don't need to have a degree in higher education to become a pharmacy technician, though it is highly recommended. Many community colleges and even some universities offer associate's degrees or certificate programs that take less than a year to complete, assuming you're enrolled full time. If you are interested in pursuing a more specialized degree in the future, then you'll definitely want to enroll in an educational program. This way, you can learn what you need to know about pharmacy law, ethics, and more.
Get On-the-Job Experience
One of the most important aspects of becoming a pharmacy technician is getting plenty of on-the-job training experience, which you can do by applying for a job as a pharmacy assistant. If you've enrolled in a degree or certificate program, a clinical position may even be assigned for you near your completion of the program, so you don't have to go through the process of searching for a job on your own.
Pass a Certification Exam
Once you've gotten enough on-the-job training, it will be time for you to get certified as a pharmacy technician, which requires that you follow a series of steps. For starters, you'll need to submit to a criminal background check. Assuming that you pass the background check, you'll then have the opportunity to take the official Pharmacy Technician Certification Exam. Once you pass the exam (you can take it more than once, if needed), you'll be certified to work as a pharmacy technician. There's even a chance that the place where you completed your clinical training will be interested in hiring you.
Explore Your Employment Options
When it comes to
how to become a pharmacy technician
, it's important to keep an open mind. This means being willing to apply for jobs at any number of places, including nursing homes, hospitals, community pharmacies, and the like. The more open-minded you are, the better your chances will be of finding a job and earning a decent
pharmacy technician salary
as well.  Pharmacy technician free training is offered at companies such as as Walgreens who offers their own
Walgreens pharmacy technician training
.  CVS also offers their own 
CVS Pharmacy Tech Training Program
.So,
how long does it take to become a pharmacy technician
? In most cases, it's possible to begin working within a year or two. Assuming you follow all the necessary steps regarding
how to become a pharmacy technician
, you'll be on your way to a great career in the near future.
Source:
http://money.usnews.com/careers/best-jobs/pharmacy-technician/salary