The Benefits of Legitimate Work at Home Jobs
There are many legitimate work at home jobs; too many to mention in a single article. Workers are finding legitimate data entry jobs, writing and editing jobs, virtual assisting and transcription jobs and many other positions that allow them to work from the comfort of their own home. Working from home allows you to set your own hours most of the time, and be there for your family whenever you are needed, while still making a viable income. You'll also save money on commuting, daycare and other work-related expenses that you don't incur working from home. The most difficult aspect of working from home is finding a legitimate job. The following tips will help you find the right job for you.
Never Pay a Penny to Work from Home
The most important thing to keep in mind when you are looking for any job, whether it be a traditional job outside the home or a work from home position, is that you will never have to pay money to obtain a job. If a company requires payment up-front before they will provide information, schedule an interview with you or offer you a position, it is best to look elsewhere. Requiring payment from job applicants is one of the key signs that the job is a scam.
Skills Required
Another thing to keep in mind is that what works for one person may not work for another. Determine your skills and interests and find a job field that you'd like to work in. Then tweak your resume so it is targeted at the positions you are interested in. Then you can search for clients or companies that offer work from home positions. And remember that you may have to start at the bottom to prove yourself, taking lower-paying assignments until you can build up to the more lucrative jobs.
Where to Look
Now that you know what to look for, you may be wondering where to look for work at home jobs. There are several great message boards and clearinghouse sites that offer job leads. Many other sites act as a middle-man of sorts, bringing workers together with clients. These sites handle the marketing aspect and workers simply complete jobs, get paid and take care of their taxes. The best option is to conduct an online search for the key phrase "legitimate work at home jobs" or a search term that contains the words  "work at home" and then use those results to narrow down your options and choose a company that is right for you.  Some of the  jobs returned in the search should consist of legitimate work from home companies.  When you decide to apply for a work from home job, remember to check them out by visiting the Better Business Bureau for your state.
For the most up-to-date information and a listing of  work from home jobs that offer you the flexibility of working from home, contact GoGetterCareers.com. With some research, it is possible to find legitimate work at home jobs that match your skills and interests, so you can do what you enjoy.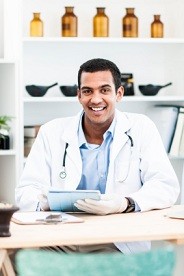 According to the Bureau of Labor Statistics, hospital jobs are some of the best-paying careers in the nation, and the number of hospital jobs is increasing. Many people think that surgeons are the only high-paying hospital jobs, but this isn't true. While surgeons are the highest-paid professionals in the United States, averaging around $190,000 per year, other hospital jobs pay very well. Rounding out the top five list of highest-paying jobs in America are anesthesiologists, obstetricians and gynecologists, internists and pediatricians. Anesthesiologists earn around $185,000 per year on average. OB/GYNs average about $181,000 per year. General internists average around $160,000 per year and pediatricians average about $143,000 per year. In addition, CNN Money conducted a survey that found that Hospital Administrators and other medical personnel have some of the best-paying careers with the best benefits.
These aren't the only health care jobs that are available, however. Nurses and support personnel jobs are also becoming more widely available as the need for healthcare increases. The Bureau of Labor Statistics predicts that healthcare jobs will continue to become more in-demand in the next few years. In 2011, there were over 153,450 Licensed Practical Nurses and Licensed Vocational Nurses employed in the United States. Around 98,750 laboratory technicians were employed in this country, and over 410,690 aides and support personnel jobs existed in the healthcare field. Registered nurses made up the bulk of hospital jobs – over 1,642,900 RNs were employed in this country in 2011.  For more information on hospital jobs including hospital administration jobs visit the Occupational Outlook Handbook.
If you are looking for Hospital Jobs, the best place to start your search is with an employment agency. Many hospitals have stopped doing their own hiring and let another job placement agency do it for them. The best way to get this information is to go through a job-finding service, such as GoGetterCareers.com. We can not only help you find the latest and most updated list of hospital jobs, but we offer Hospital Jobs Descriptions information and statistics on jobs in a wide variety of fields to help you make the most of your career and reach your goals.  Search our jobs database and find Hospital jobs in Boston and across the United States.
In addition to helping you find the right hospital jobs, we can help you market yourself to prospective employers so you stand out from the job-seeking crowd. We offer resume assistance and tips that include resume writing services to help you showcase your education and experience. We also offer assistance to help you improve your interview skills. It's free to register for an account, and the site is very user-friendly. Just upload your resume to our online template and begin searching for the job that fits your needs. You can also sign up for job alerts so you don't miss the chance to apply for a great position opening.  Gook luck in your search for hospital jobs!
Restaurant jobs can be difficult to find. This industry is one that connections, networking and word-of-mouth get you a long way. If you are looking for restaurant jobs, you may not know where to start. Finding employment can be stressful at best, and if you are trying to do everything alone, the process becomes exponentially more difficult. The best place to go for assistance is to seek the services of career services or a professional employment agency.  You can find these organizations in your local community or online.
But you may be asking yourself "Why should I pay someone to do something I can do myself?" There are many reasons to let an employment agency assist you in your search for restaurant jobs. For many job seekers, it is more convenient to seek the services of an online job search agency. They are able to assist you around your schedule, so if you are currently working another job, you don't have to take vacation time or unpaid leave to go to appointments. It may also be easier for some individuals to talk to an employment counselor online, especially if you live in a small town. No one wants everyone in their neighborhood to know they are out of work, or unsatisfied at their current job.
* Resume Assistance:   Resumes can be difficult for many people who are looking for employment. It's hard to know what each employer is looking for, especially since the resume can be such a subjective piece of work. Hiring officials for restaurant jobs are looking for specific experience and credentials. An employment agency can help you know exactly what an employer is looking for and incorporate it into your resume so you can stand out from the crowd.
* Interview Skills: Employment agencies help with interview skills for jobs in all types of industry, and this includes restaurant jobs. An employment professional will help you prepare for questions that you might be asked in an interview, and anticipate any stressful questions or situations that might arise. If you wish, you can even do some mock interviews with your employment counselor, to help you be more relaxed when it comes time for the real thing.
* Job Search Assistance: Employment agencies will also have the most up-to-date listings of restaurant jobs to help you find the best job for you. Newspaper ads can be outdated before they even hit print, and website job listings may be out-of-date depending on how frequently the website updates their information. Make sure you choose a competent job search website that has current information and can help you through the job search, application, interview and hiring process.
Different employment opportunities are available in the restaurant  industry  that include Food Service jobs, Restaurant Management, and  Culinary Arts jobs.
The following restaurant jobs may include the following responsibilities:
Food Service jobs:
Waitressing
Host and Hostess to greet customers
Cafeteria workers and restaurant aides
Restaurant Management jobs:
Customer satisfaction
Ordering of supplies
Taking restaurant supply inventory
Maintenance of facility
Culinary Arts jobs:
Hiring and training of staff
Scheduling staff
Ordering of supplies
Sanitation Enforcement
Source:  The Big Book of Jobs, Occupational Outlook Handbook
If you are looking for restaurant jobs, food service jobs, culinary arts jobs, restaurant management jobs or seeking employment in other professions, contact GoGetterCareers.com today and let us assist you with your job search!
Recent Posts
Archives
Subscribe to my feed