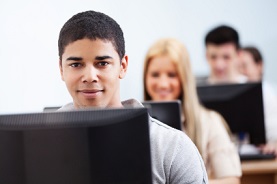 The advantages of online computer training courses allow employers to provide the necessary training with many benefits both to the company and the workers it employs.  The technological landscape is always changing and it is important that workers keep up with these changes. The best way to keep up with technological advances is obviously training, but hosting classes and providing books and other materials can be costly.  That's where online computer training courses come in.
Benefits of Business Training Online
Financial Savings: Requiring your employees to attend necessary training on a computer-based, online platform can save your company thousands of dollars. You don't have to provide costly books and software to employees. You don't have to hire a trainer to come and teach the classes in person, and you won't have as much employee down-time. Your employees can log on to the training website as their work load allows, complete the training at their own pace, and then return to their job duties. You'll also save money on record-keeping – the training website will allow you to print a list of employees who have completed the training, are coming due for the training, or are overdue for the training.
Selection of Courses:  A large selection of courses are available in a number of different areas of study.  Students can even take online college courses in computers or focus on other areas such as business classes.  Some institutions offer certificates and diploma classes.   For the computer professional,  computer certification courses and online computer training certification is also available.
Time Savings: Employees grumble about being required to take hours out of their day to attend formal classroom training. Allowing employees to attend self-paced online computer training saves them time. They can complete the course at their own pace and receive the most important information. They can also take notes via pen and pencil, or copy and paste information to a word processing document to refer to later.
Convenience: It can be difficult to round up all of your employees to attend a class at the same time, especially if your company has employees working different shifts. Providing online computer training courses to your employees allows them to take the training at the own convenience. It also saves you the headaches that come from scheduling the training. You don't have to locate an appropriate facility with the needed equipment, a trainer and the materials needed for the class. You also don't have to worry about scheduling classes to fit in with your workers' schedules.
If you are contemplating offering online computer training courses to the members of your workforce, you first must determine what training your employees need. You also need to know what type of budget you have to provide this training with. Once these variables are determined, you can then begin the search for a computer training provider that can offer the classes to your employees. You can then begin offering training and reap the benefits of virtual training!
If you are a job seeker and would like to learn or improve upon a skill, GoGetterCareers.com can help.  We can connect you with one of our affiliate partners where you can take online computer training courses via online video or enroll in an online class with a live instructor.  Whatever option you choose… online computer training courses, and computer certification courses can be accessed from our home page under Services or you may contact us at 978-921-5600 or email us at CustomerSupport@GoGetterCareers.com.