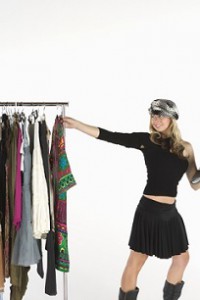 If you love fashion and would like to make a career out of it, then you might be wondering how to become a fashion stylist. Believe it or not, just about anybody with a little bit of fashion sense and a lot of passion can work their way up to working as a fashion stylist. However, there are a few specific steps you'll want to follow on your path to this career that will improve your overall chances of success.
Formal Schooling
While it is possible to land a job as a fashion stylist without having a college degree, having at least an Associate's degree in a related field will make you stand out in the competitive fashion industry. While you probably won't find many colleges that offer a "fashion stylist" degree, there are certainly a number of popular degree options that are relevant and will teach you the things industry insiders will expect you to know. Some specific degree problems to consider include:
     fashion merchandising
     fashion/clothing design
Throughout your time in school, consider compiling some of your best work into a portfolio, which you can use when you graduate and the time comes to start looking for paid positions.
Get Some Experience
This is something that you may be able to do (at least to some extent) while you're in school and on your way to figuring out how to become a fashion stylist. Some relevant positions to explore while in school include part-time jobs at clothing retail stores or even making and selling some of your own clothing designs on the side. Once you graduate, you'll generally need at least a few years of actual experience working in some facet of the fashion industry before you'll be able to land an actual job as a fashion stylist. In the meantime, however, consider joining a fashion organization and getting involved in as many of their local opportunities as possible.  There are many interesting companies out there that offer fashion stylist opportunities.  Some opportunities include pursuing a career as a personal fashion stylist or even learning how to become a celebrity stylist!
Get Your Certification
Once you feel you're ready, you will also want to get certified by the Association of Image Consultants International (AICI). This well regarded organization offers two levels of certification: First Level and Certified Image Professional. In order to obtain your certification, keep in mind that you'll need to pass a rigorous exam that will test your technical knowledge of the industry, so you'll want to make sure you have plenty of experience under your belt and take your time to study.
Of course, you may be curious about the average fashion stylist salary as well. Generally, the typical fashion stylist salary is around $50,000 per year, but this can vary based on your employer and level of experience. Many starting salaries are closer to the $35,000 range, and it is possible to make much more than the average salary.
How To Be a Stylist Resources:
Fashion Stylist Schools – The Top 50 Fashion Schools in the World:  The Fashionista Ranking
Now that you have a better idea of how to become a fashion stylist, all that's left to do is pursue your dream!
Source
http://www.aici.org/, http://www.payscale.com/research/US/Job=Fashion_Stylist/Salary