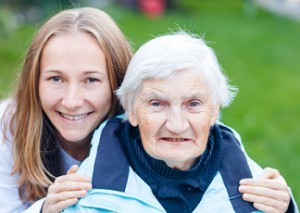 If you enjoy helping others and are looking for a rewarding career to explore, then you might be perfect for one of the many open
caregiver jobs
available. As a caregiver, you'll have the opportunity to help people in need with their day-to-day activities, assisting them in living an enjoyable and healthy life. If this sounds like a career for you, then you'll want to make sure you know what steps to take in order to become a licensed caregiver in your state.
What Does a Caregiver Do?  Start by understanding exactly what your job responsibilities will be as a caregiver. By being aware of the typical caregiver job description, you'll have a better idea of what to expect when you begin working in the field. The average caregiver job description involves working with the physically or mentally disabled, elderly, or injured with everyday activities, including:
taking medications
hygiene and bathroom needs
feeding and grooming
basic housework
As a caregiver, you'll have the opportunity to develop a close relationship with the people you care for, which many in caregiver jobs find to be rewarding.
Education Required
What education is required to become a caregiver?  If you're interested in working in caregiver jobs, you'll need to start by having a high school diploma or equivalent (GED). While some caregiver agencies used to hire those without diplomas, this is becoming less and less common these days.
From there, you'll also be required to have some basic training, including emergency response certification (such as knowing CPR). Depending on the state in which you live, there may be further educational requirements, such as completion of a vocational school program as well.
Skills and Requirements
Wondering what skills and requirements are needed to work as a caregiver?  In addition to the basic training and education requirements, most caregiver agencies will also need you to have some important skills before you can begin working in caregiver jobs. For example, you'll need to have excellent interpersonal skills, as a large part of most caregiver jobs will involve working one-on-one with others. Because you'll also be responsible for keeping your clients on a schedule, you must also have great time-management skills to ensure medications are taken on time and that your clients are otherwise kept on their schedules as needed. You'll also need some basic strength, as your job may involve assisting clients into the bath tub, bed, or in and out of vehicles.
Overall, working as a caregiver is a great option for those who want to help others, but don't necessarily want to spend years in school to become a nurse or other healthcare aide. By obtaining the necessary training and education, you could be eligible for many of the caregiver jobs that are currently available.
More Information for Caregivers for Seniors:
Private in Home Caregivers –  Different scenarios are presented and information is given on what actions to take. Here you will find information on where to start if you are looking for private in home caregivers.
Elderly Looking for Caregiver – How to choose a home care agency
Agencies for Caregivers – Different scenarios are presented that explain what an agency offers verses private pay home health workers.
Caregivers for Seniors – Everything you need to know about caregivers for seniors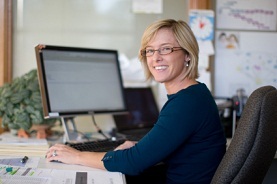 These days, those with experience in the nursing field can very well begin working in nursing jobs from home. This is an excellent option for experienced nurses who want to enjoy the convenience of working from home while still being able to help those in need. For those interested in the opportunity for work at home employment, there are a few specific nursing jobs worth looking into and applying for.
Case Management
Many companies these days hire work-from-home nurses for case management positions. With these positions, the nurse's main job is to work with patients who have filed disability claims due to being unable to work. Case managers evaluate these claims on a case-by-case basis, staying in close communication with physicians, therapists, and the patients themselves. Ultimately, their goal is to help patients through their claims while developing a long-term plan to get them back to work.
Those interested in this type of position should have an RN license in addition to three to five years of experience in working with disabled patients.
Telehealth Services
What does it take to become a telehealth nurse?  These days, the need for telehealth nurses has grown greatly, according to a FlexJobs.com article. Specifically, telehealth nurses accept phone calls from patients and answer basic health-related questions. Patients may call in, for example, with a description of their symptoms. From there, these work-from-home triage nurses can provide them with medical advice based on the information given to them. In some cases, they may refer patients to a doctor or local hospital.
To become eligible for telehealth nursing jobs from home, you should at least have an Associate's degree in Nursing, along with a preferred three to five years of experience in the field. Additional experience with documentation and clinical assessment is also a bonus.   Registered nurse employment from home is also an option.
Medical Transcription
Last but not least, there's also the option of working in medical transcription for those who are interested in working in nursing careers from home. Essentially, those who work in medical transcription, from doctors to physicians, take notes and turn them into administrative documents. It is possible to secure a degree in medical transcription (usually through completing a certificate program at an accredited school), but registered nurses can also be eligible for these jobs with the right amount of experience in the administrative side of nursing. The growth in demand for transcriptionists has been steadily on the rise for years, and only shows signs of increasing further.
For those interested in work at home employment and working in nursing careers from home, these positions are all worth looking into. From administrative roles to nursing jobs from home that allow one to continue working directly with patients, there are plenty of options that provide a rewarding job and flexibility as well.
More Nursing Jobs From Home Opportunities:
RN Consultant Work From Home – Salary and  nursing qualifications for a RN Consultant Work From Home nursing professional
Insurance Nursing Jobs from Home  –  15 companies offering work from home nursing jobs
Non-Hospital Nursing Jobs – 15 great non-hospital nursing jobs
Online Nursing Jobs from Home – Companies that hire work at home nurses
http://www.americansentinel.edu/blog/2011/03/09/legislation-boosts-job-outlook-for-nursing-informatics/
If you have a passion for helping people overcome trials and tribulations in their lives, then you could make for an excellent social worker and may even be wondering
how to become a social worker
. So, what does a social worker do?  Generally, social workers assist people in getting back on their feet after a particular hardship or multiple hardships in their lives. As a social worker, you can choose to work with adults, children, veterans, or just about any demographic you're passionate about helping, making it a very rewarding career option for those who have plenty of ambition and thick skin.
Requirements to Become a Social Worker
Obtain a Bachelor's Degree
Wondering what the education requirements for a social worker are and what degree does a social worker need?  The first step towards becoming a social worker is to obtain a Bachelor's degree in the field. Many colleges and four-year universities these days have social work programs due to the high projected growth of the field. However, you'll want to be sure to do your research thoroughly and find a college that is known for having an excellent social work program. During your time in your social work program, you may also have the opportunity to complete internships, which will provide you with experience you'll need to be successful in terms of how to become a social worker later on.
Consider a Master's Degree
Will a Master's Degree help you become a social worker?  Technically, you only need a Bachelor's degree in social work to pursue your certification in the field. However, social work is one of those fields where it really does help to have a Master's degree as well. In terms of how long does it take to become a social worker, your Master's degree usually takes an extra year or two, but also allows you spend time studying the specific aspects of social work that are most interesting and appealing to you. Furthermore, during your Master's program, you can gain even more exposure that will come in handy when you're working in the field.
Become a Licensed Social Worker
Once you've completed your schooling to become a social worker, you'll need to get your license. There are four levels of certification based on your schooling and experience, but either way, you'll need to pass a thorough exam that tests your knowledge of the field. Specific requirements for licensing also vary from state to state, so be sure to do your research. Once you have your license, you can begin practicing and earning a living as a social worker. How much does a social worker make? The average social worker salary is about $46,000 per year.
Now that you understand how long does it take to become a social worker and how to become a social worker, you can begin working towards landing your dream career!
Resources:
What does a clinical social worker do? 
http://money.usnews.com/careers/best-jobs/child-and-family-social-worker/salary
Recent Posts
Archives
Subscribe to my feed