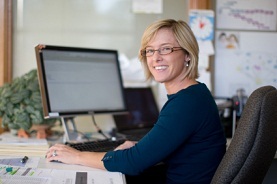 These days, those with experience in the nursing field can very well begin working in nursing jobs from home. This is an excellent option for experienced nurses who want to enjoy the convenience of working from home while still being able to help those in need. For those interested in the opportunity for work at home employment, there are a few specific nursing jobs worth looking into and applying for.
Case Management
Many companies these days hire work-from-home nurses for case management positions. With these positions, the nurse's main job is to work with patients who have filed disability claims due to being unable to work. Case managers evaluate these claims on a case-by-case basis, staying in close communication with physicians, therapists, and the patients themselves. Ultimately, their goal is to help patients through their claims while developing a long-term plan to get them back to work.
Those interested in this type of position should have an RN license in addition to three to five years of experience in working with disabled patients.
Telehealth Services
What does it take to become a telehealth nurse?  These days, the need for telehealth nurses has grown greatly, according to a FlexJobs.com article. Specifically, telehealth nurses accept phone calls from patients and answer basic health-related questions. Patients may call in, for example, with a description of their symptoms. From there, these work-from-home triage nurses can provide them with medical advice based on the information given to them. In some cases, they may refer patients to a doctor or local hospital.
To become eligible for telehealth nursing jobs from home, you should at least have an Associate's degree in Nursing, along with a preferred three to five years of experience in the field. Additional experience with documentation and clinical assessment is also a bonus.   Registered nurse employment from home is also an option.
Medical Transcription
Last but not least, there's also the option of working in medical transcription for those who are interested in working in nursing careers from home. Essentially, those who work in medical transcription, from doctors to physicians, take notes and turn them into administrative documents. It is possible to secure a degree in medical transcription (usually through completing a certificate program at an accredited school), but registered nurses can also be eligible for these jobs with the right amount of experience in the administrative side of nursing. The growth in demand for transcriptionists has been steadily on the rise for years, and only shows signs of increasing further.
For those interested in work at home employment and working in nursing careers from home, these positions are all worth looking into. From administrative roles to nursing jobs from home that allow one to continue working directly with patients, there are plenty of options that provide a rewarding job and flexibility as well.
More Nursing Jobs From Home Opportunities:
RN Consultant Work From Home – Salary and  nursing qualifications for a RN Consultant Work From Home nursing professional
Insurance Nursing Jobs from Home  –  15 companies offering work from home nursing jobs
Non-Hospital Nursing Jobs – 15 great non-hospital nursing jobs
Online Nursing Jobs from Home – Companies that hire work at home nurses
http://www.americansentinel.edu/blog/2011/03/09/legislation-boosts-job-outlook-for-nursing-informatics/